Venue
PyTexas 2013 will be taking place in the newly renovated Memorial Student Center (MSC) on the Texas A&M University campus in College Station, Tx.
MSC
Not only is the MSC a centrally located hub on the TAMU campus, but makes available several large conference rooms and ammenities such as coffee shops, dining, a Barnes & Noble, and an Apple certified redistributor. More information on the MSC amenities.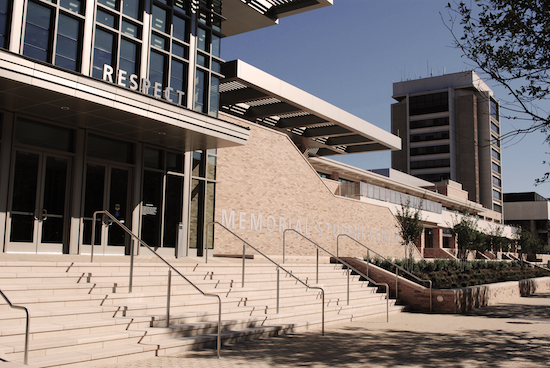 Photo taken from Flickr
Parking 
The best choice for parking are the parking garages located near the MSC. All parking garages charge the same rates so PyTexas recommends parking at the closest parking garage, the University Center Parking Garage or the West Campus Garage. For more information on visitor parking and rates see the TAMU Parking website.
On Saturday and Sunday, parking lots 48 and 62 are also available.
Bryan/College Station
Located centrally between The DFW, Austin, and Houston, the Bryan/College Station area provides all the things a college town should and more. Along with the deeply engrained Aggie Traditions seen scattered throughout the town, College Station provides many forms of entertainment especially when it comes to bars and dining. It's smaller but similar twin sister city Bryan provides a unique get away with a newly revived downtown with a great live music and art scene. Scroll down to the see more about things to do in B/CS.
Travel Info
The Texas A&M website has useful travel info for getting to campus. Texas A&M also has a campus map with buildings named properly and visitor parking marked.
The MSC also has its own information on getting there, as well as some parking information.
Night Life & Dining
The most notable area for night life in College Station is Northgate where there is a lot to eat as well as entertainment. Parking is behind the University (street) facing strip (parallel to the street). Make sure that you are legally parked because towing is heavily enforced in the area. 
A great website to visit for all the information on things to do in B/CS, visit the Bryan-College Station Convention and Visitors Bureau .
If you decide to venture over to Bryan, a great resource is downtownbryan.com for information on dining and entertainment.